Something Fishy or a Diva from the Deep Sea?
16th June 2007 saw the advent of our Summer concert at the RAM.
It started off with the Deep C Divas, the lesbian acappella group from Yorkshire. Deep C Divas was formed in 1999 and had performed at Parisian bandstands and the Sydney Opera House. Their repertoire includes everything from traditional folk songs to Chaka Khan (mystical, new age-y?). The set was supposed to be the combination of personal and political, serious and silly, funky and feminist, romantic and raunchy – good lines for a dating website profile! They performed six songs which were Falling, Simple Love, Only One Way, When I Held Your Hand, I Hope and My Girl.

Then we had our gorgeous Something Fishy. The four members were: Eliza Marz (vocals), Lara Montage (vocals), Vinnie Los Campos (vocals/guitar) and 'Funky Fingers' Finlay (vocals/keyboard). Guess who they really are? This sexy, sassy, witty combination transported you through time and delivered kitsch melodies and downright dirty disco (Eurotrash?). All the music was arranged by Something Fishy and tonight we were treated to songs like Something Fishy, Angela ( I didn't know there was a Lesbian bar in Walthamstow!), Japanese Girl/Boy (missed that one 'cos we were backstage already!) and Only You (by the most wonderful Alison Moyet).
Before the end of the first half, the audience had a quick glimpse of great things to come when the Pinkies paired up with Paleday's Anthony Stubbs to sing a moving song in memory of Anthony's dad who died of Alzheimer's disease. A catchy tune: Look up at the Stars with lots of tears of joy.

The second half kicked off with a colourful piece by John Rutter. It was a compilation of different songs which stimulated all your senses. It had the smell of the Fancy Bred (Bread!), a erotic garden full of sweet cherries ( I keep having this mental picture of sitting in the garden… where is the garden? ), the naughty urchins popping up here and there, the creepy animals going ting ting ting and tweak tweak tweak, and finally end with a silly riddle. Yes, cherries again! A highly technical piece and our accompanist Michael also had a chance to display his virtuosity on the piano.
Then we had Bruckner's Motets: Afferentur Regi and Tantum Ergo. Followed by Karl Jenkins' In Paradisum from his Requiem. Beautiful harmony and top notes for our sopranos and altos who sang the middle part with angelic voices. The audience was in heaven.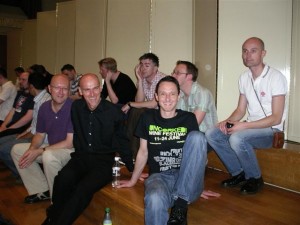 Our beloved music arranger, Andy Mitchinson, provided us with two songs to sing. They were Kate Bush's This Woman's Work and Blur's Girls and Boys. Apparently, This Woman's Work is about pregnancy and Girls and Boys… the national gay and lesbian anthem! In between, we had Linda Perry's Beautiful. That was a song for our altos to shine and they shone indeed. We are all beautiful no matter what they say. Lots of hmmm… and oooh… from the tenors and basses.
The big finale of the Summer concert of course was Big Band Bash, the jazziest tunes you can get from the great composers like Duke Ellington, Irving Mills, Benny Goodman. My favourite one of course is (I Love You) for Sentimental Reasons and It Don't Mean A Thing. I just realised from reading the score the latter was from "Sophisticated Ladies". Doesn't that mean the Pinkies?
Our encore piece was Love Song for a Vampire by Annie Lennox, once again arranged by our beloved Andy, specially for basses, of course.
Lastly, big thank you to Mladen, Michael, Lynne, Zane (our sign interpretor) and everybody who contributed to the concert in various ways. Love you all.
Clap, clap, clap…
by Ben
Tenor