The Black Cap saw another fabulous evening of Pink entertainment on 10th June, as the choir and their friends gathered for the Pinkies' Brainbox Challenge, organised by the sopranos.
Team names were picked and our calm yet masterful MC, Emelda, began the interrogation.
The first question after I arrived was on my special subject, the European Union (must get out more…), but after that things went downhill a little for me, alas; even things I should have known refused to float to the surface of my ageing brain.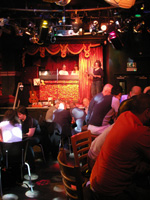 Fortunately the rest of the team were more clued up on the assorted topics chosen by quiz compiler and Soprano Section Leader, Jenny:  statesmen (and women), sci-fi characters, music with a geographical connection…
Inspired by alcohol, and with banter flying across the room, team rivalry grew. The next table to us was packed with brainy medics, but we were undeterred.
Then perhaps we lost focus a little, or just didn't have the hunger for glory: when the final scores were announced, we were second to last! We even missed the booby prize (sniff!).
Astonishingly, the smallest team nearly won – only three people, but evidently all super-brains.
First position went to… those pesky health professionals and their intellectual team-mates!  Congratulations all round, and particular thanks to Jenny and Emelda; it was a great night!
by Hester
Soprano
Tweet