As a seasoned Pinkie — eight years and counting — you would have thought that concerts were a walk in the park for me. Not so. I still feel the nervous excitement before performances. Our concert 'A Burst of Song' at Cadogan Hall on 8 January was no exception.
We arrived at 1 pm fresh and well hydrated — a tip from the top to help us sing — ready for an afternoon of technical rehearsals and preparation for our concert. Our new Musical Director Murray, the choir's artistic team and Poppy our Stage Manager made sure that the Pinkies and our guest choir from Manchester both sounded and looked our absolute best. Everyone wanted to put on a pinktastic show.
There was a short break after rehearsals — time to get dressed, ready and psyched up. This was the first concert for some choir members. They were understandably nervous of going on stage in front of family, friends and guests.Established members of the choir tried to put newbies' fears to rest before we climbed the stairs for our first number.
We opened with a lively rendition of Proud Mary complete with an energetic dance routine which celebrated many of Tina Turner's distinctive moves and shakes. This was followed by John Rutter's soft and subtle setting of Fauré's Cantique de Jean Racine, the jazz classic Lullaby of Birdland, a traditional Swedish hymn Härlig är Jorden and the tongue-twisting With a Lily in your Hand by Eric Whitacre to close the Pinkies' first half contribution. Manchester Lesbian and Gay Chorus then performed until the interval.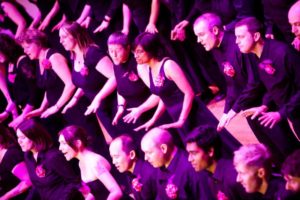 We had a few minutes to mingle with friends and family before the second half began, which was successfully opened by our Manchester friends. The Pink Singers then returned to perform the thoughtful and melancholy Deep River followed by Gershwin's up tempo I've got Rhythm. The mood changed again for Send in the Clowns from the musical A Little Night Music. Next came Billy Joel's touching ballad And so it Goes. A brilliant arrangement of Madonna's Like a Prayer from the hit TV show Glee closed the show.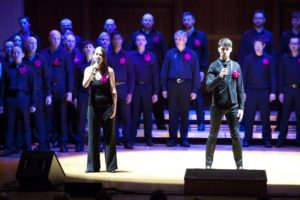 Some choir members shone as soloists while the rest of us danced and pranced gospel style. Following a resounding show of appreciation from the audience, we performed With a Lily in Your Hand and Proud Mary again for our encore. To say that we brought the house down is an understatement! Everyone in the audience seemed to be on their feet clapping enthusiastically. It was a brilliant and jubilant feeling.
We'd had a challenging season for a number of reasons and to achieve that level of appreciation made all the hard work and dedication worthwhile. It will be a night that I will always remember and I am proud as punch of the Pinkie crew for pulling off such an amazing show.

I am still buzzing and eagerly await what's in store for the Pinkies next season!
Claire
Timeline datestamp: 08 January 2011